2023 Planting Weekends Invitation
Announcement of the 2023 planting season.
Hi Everyone,
We've finally reached a point where we can announce some tree and shrub planting weekends for August and September. Apologies for the delay in getting to this stage - the weather has been consistently inconsistent.
Some of the activities for this year will be:
Tree and shrub planting in some new sites
Replanting in some sites where plants planted in 2022 drowned in the incredibly wet season
Revisiting recent sites (3-5 year old) and removing old guards and stakes for reuse where possible
and formative pruning of the 3-5 year old young trees- which is an activity that has positive and long-term effects on tree health and longevity.
Chris and Helen next to a White Box planted in 2016 (seven years old) following some formative pruning 3 years ago: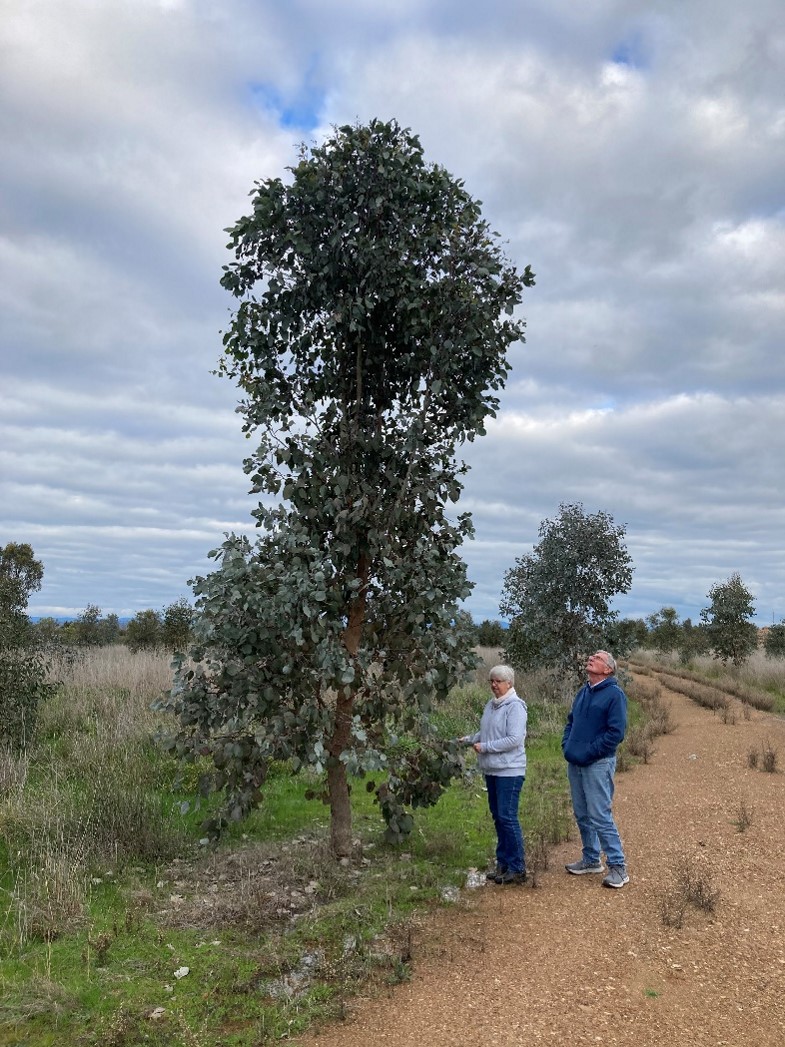 ---
Planting Weekends are:
Please book in by Wednesday evening prior to the event to allow time for planning and catering.
Please note that all the events are free we and we are now using the Humanitix booking system - which requires more information from you as you book in- but takes the place of the paper sign-in forms that we have traditionally used at the start of each day (paper options will still be available if needed). It also creates great reports for us. First time through can be a bit repetitive- but the system will start to predict what you want to input. You can book in for either or both days via the links and please remember- we welcome everyone to be involved and if you feel that a part day is best for you we look forward to your involvement.
If you prefer to book in person or the above system is problematic for you then please contact Nett on 0417166824 (text is best) or bushgatherings@gmail.com
Nett works fulltime elsewhere and normally gets to respond in the evenings. You can also contact me on 0429782777 or regenthoney@outlook.com
As in previous years the weather prior to a weekend will impact on which site we will be at - so maps will be sent out to everyone on the day or so prior.
---
Free camping is available at (booking is part of the links above):
Old Lurg School: 9.4km along Winton-Lurg Rd (has toilets and showers)
Winton Wetlands at Greens Hill (off Boggy Bridge Rd) (toilets- no showers or drinking water)
Scouts Hall OR Guides Hall in Benalla (depends on which one is available at each weekend) - toilets but no showers. The booking system states Scouts Hall - book in and we will arrange mattresses and let you know which hall it is for your weekend.
There are also various accommodation options in and around Benalla
---
As in previous years we will supply a free meal in Benalla for Saturday night and will arrange a Sunday lunch and we will have a continuous supply of hot drinks on site.
You will need to bring:
Saturday lunch and drink break foods as well as
Sunday breakfast (there are various food options in Benalla) as well as morning tea nibbles
Suitable outdoors clothing and footwear- gumboots can be handy in the morning- weather dependent.
Your relevant camping needs (remember- our days can be beautiful- but the nights can be cold - so bring good bedding)
Hope to see you soon!
Andie Guerin - Regent Honeyeater Project Coordinator
0429782777