Donate Now
Connect
Working as a community to restore our landscape
In order to create high quality habitat connections at a landscape scale, the Regent Honeyeater Project relies on connecting with people and organisations across the region, and beyond.
Most of the habitat is on private land or roadsides so we work primarily with farmers and local government. In recent years we have also had the opportunity to work with Winton Wetlands on their massive revegetation activities.
Farmers are busy people and often just don't have the time to make environmental improvements that are on their wish list. We support landholders with knowledge, access to funding and with volunteer 'people power' to help with the hands on works - not only connecting the landscape but connecting volunteers to the landscape and those who work in it.
Find out how to get involved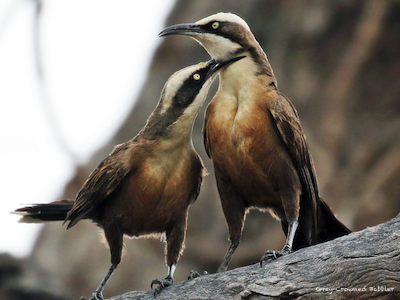 Grow
Growing native plants and collecting indigenous seeds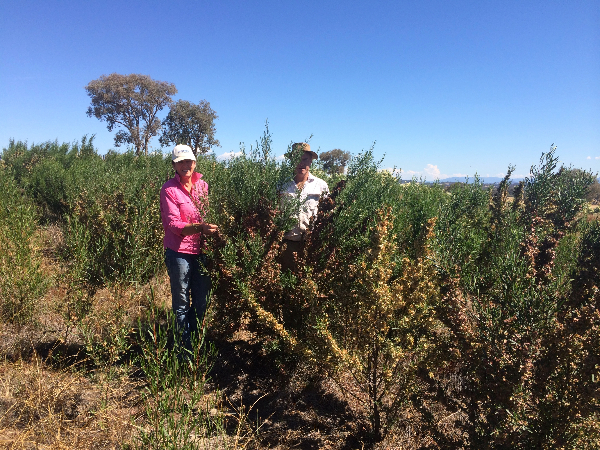 At our nursery near Benalla, local volunteers grow all the tube-stock required for the project each year. We use native plants that are indigenous to the region, including a range of trees, shrubs and ground-layer plants.
The indigenous seeds used for propagation in the nursery are collected in the region by local volunteers.
In 2015 we established a 4ha seed orchard on a farm at Winton. This is to address the problem that many shrubs and ground layer plants have become locally rare, with only a small number of plants remaining which have poor genetic diversity. For each of the local plants suited to growing at the seed orchard, we aim for a planting of 500 specimens. These are grown from seed collected from as many local populations as possible. Pollinators then mix the gene pools up, resulting in improved and more resilient and climate change adaptable gene pools as well as vastly increased volumes of seed.
Plant
Planting to produce functioning habitat
Most years we plant around 10,000-20,000 tubes from our nursery. Community volunteer groups, school students and university students assist landholders with the massive amount of on-ground work required.
Machine or hand direct seeding is also used at times to increase the numbers of smaller plants going into a prepared site. This requires a great volume of seed which is now available from our seed orchard.
Our key aim when planting is to produce functioning habitat. The mix of plants is carefully chosen for each site, considering aspect, soil type and many other factors. The plant densities we use have evolved with knowledge and experience, to suit the site and purpose of the planting.
Site preparation and planting can vary from site to site and year to year depending on conditions. Where appropriate, sites may be deep ripped to fracture hardened soils and to allow easier planting and rainfall penetration. Sites may also be spot sprayed to create a niche that has less weed competition to allow a seedling to establish.
A variety of guards are used where needed to reduce damage by hares, kangaroos, etc.
Planting is timed to give seedlings the best possible chance of survival without further care, however they can be watered when the season requires.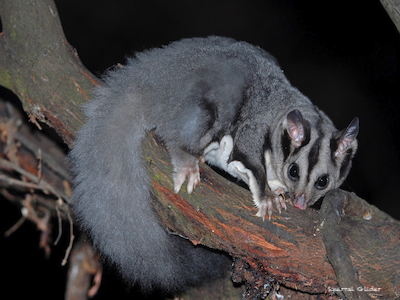 Improve
Maximising ecological outcomes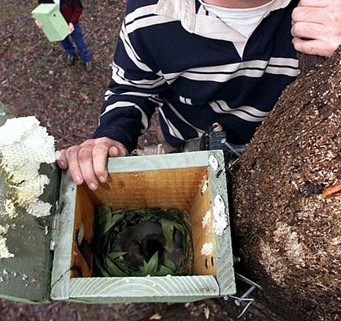 We always strive to achieve maximum environmental benefit for any patch of land (private or public). We acknowledge that habitat areas need to be maintained to provide maximum potentials. Improvements can incorporate activities like:
Mistletoe reduction in old trees. Mistletoe is a valuable resource for a wide range of species with its unique flowering times and often edible fruits and leaves. But sometimes mistletoe volume can become out of balance to the detriment of the health of an individual tree and intervention is warranted (with the appropriate permits).
Nest Box construction and installation. Natural hollows occur in trees that are 100-200 years old. Nest box placement in young vegetation provides crucial habitat for rare mammals such as gliders and phascogales.
Pest weed and pest animal strategies and controls.
Improving plant density. We aim for trees that form valuable functioning habitat, including trees that not only flower but also provide the nectar that many threatened species are relying on. When plants are too dense, their ability to provide these services is greatly reduced. Ecological thinning can help manage this, taking two forms - the reduction of numbers of Eucalypts that may have germinated from natural events and have formed thickets; or managed reduction in the number of Eucalypts as they grow in size from an historical planting activity. We can assist landholders in these matters.
In the spirit of reconciliation the Regent Honeyeater Project acknowledges the Traditional Custodians of country throughout Australia and their connections to land, sea and community. We pay our respect to their Elders past and present and extend that respect to all Aboriginal and Torres Strait Islander peoples today.